DayStar Filters NEW Quantum Hydrogen Alpha Filter Series
(With prices starting at $2850)
This completely redesigned precision heated housing incorporates ALL of the desired features for today's solar observer or researcher... and then some. Operation couldn't be simpler, just plug it in and a green light indicates when the filter is onband.

The housing operates at 12VDC for field or battery use, included is a 100-240 power supply with US, European, UK and Australian adapter wall plates, live LCD readout of the filter's wavelength output (accurate to 0.1Å) and red /blue wing shift buttons that can precisely tune wavelength up or down for Doppler studies. The unit even includes a serial port for computer control capability for on-screen display of filter readout. The new Quantum Series body style is all about ease of operation.... total simplicity.

---

The Quantum SE series are designed for most amateur and some academic applications. These filters meet the critical DayStar quality control criteria applicable in all visual and some photographic environments.
Our Quantum PE series is designed for professional research studies and applications in which precision homogeneity and onband transmitance values across the substrate surface are required. These filters require additional quality control steps and additional fabrication and testing time.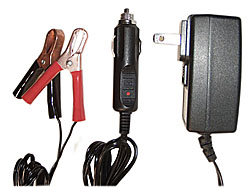 All new heated DayStar Filters produced will feature this new housing style at no increase in cost to the user. Owners may upgrade their existing ATM or University model DayStar filters to the Quantum series housing for $700.00. Delivery time on upgrades is currrently 6-10 weeks from receipt of filter and payment.
T-scanners will continue to be available as before, at the previous pricing schedule.