PERFECT FOR STAR PARTIES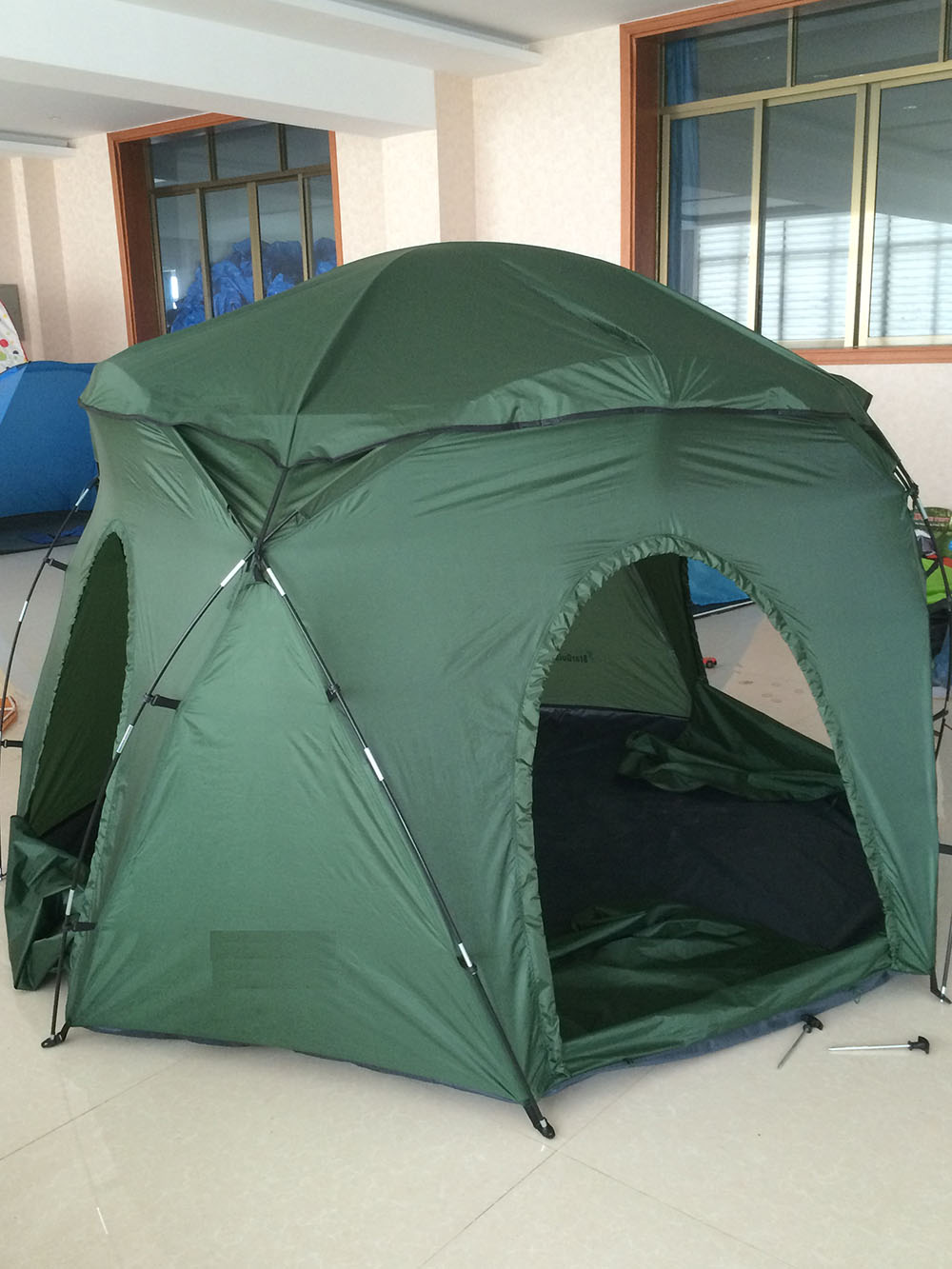 NEW STRONGER, MORE DURABLE MATERIAL. FLY COVER INCLUDED. LARGE 10 FEET DIAMETER OF OBSERVING SPACE.

NOW YOU CAN OBSERVE THE NIGHT SKY AND ALL IT'S BEAUTY IN YOUR OWN PERSONAL PORTABLE OBSERVATORY TENT WITH ENOUGH ROOM FOR YOUR EQUIPMENT AND TO SLEEP.

KEEP UNWANTED BRIGHT LIGHT FROM RUINING YOUR NIGHT VISION, WIND CAUSING VIBRATION TO YOUR TELESCOPE. DEW ON YOUR OPTICS. EXCELLENT FOR ASTRO-PHOTOGRAPHY OR VISUAL OBSERVATION.



This tent is made of high density water-proof fabric featuring a simple structure that is compact and light weight with an octagon bottom and round top. 4pcs flexible poles support the tent obliquely, 1pc flexible pole bends into circle to ensure the top observing space intact. There is an removable awning of 2.2 meter diameter with rain-proof function. Octagon bottom is 3 meters diameter, upper circle is 2 meters, the height is 1.5 meters. The net weight is 4.25kgs.

1. Resisting 4-5 grade wind without wind-proof rope or 6-7 grade wind with wind-proof rope (not included).

2. The installation can be finished within 10 minutes by one person or within 5 minutes by 2 people. We recommend 2 people at least to avoid wind influence.

3. It can serve 3-4 observers when 1 set equipment is included. 1-2 astronomers are observing and the other 2 persons can sleep at the same time. It can allow 5-6 people to sleep in total without equipment. So you can see there is enough room for equipment and observing.

4. It can resist moderate to heavy rain in short time. If you need to resist heavy rain for long time, another 5 meter water-proof cloth is recommended.

5. All entry openings zipper up for enclosure. Make sure not to force the zippers. At times they may stick. If this happens use a bar of soap or even lip balm to lubricate the zippers.

As with all tents make sure to purchase Seam Sealer for seams of the tent. Even the most expensive waterproof tents need to be sealed along the seams. Not only does it ensure that your seams are completely waterproof, but it gives you a chance to learn how to set it up. Quality tents come with seams that are factory taped. Taped seams have a waterproof material placed between overlapped seams, which are then double stitched. This sewing technique adds to the strength of the seam and helps eliminate any gaps when the tent is stretched. These seams will be more water-resistant than normal seams. The seams should still be sealed to ensure the best water-proof protection. This will ensure proper protection for you and your equipment.

Under certain conditions (cold weather, high humidity, etc.) condensation will form on the inside surfaces of your tent. Condensation is caused by water vapor from your breath, perspiration, or any wet clothing inside your tent. It is NOT LEAKAGE through the tent fabric. It can be minimized by removing wet clothing from your tent and by providing good ventilation through the tent.

Safety Tips:

Never store tent, even for a short period of time, without drying it thoroughly and brushing off caked dirt. Do not pack stakes or poles inside your tent. Use a separate storage bag.

Stakes Should be removed by pulling on stake itself.

Never pull on the tent fabric or stake loop to remove stake.

Tent poles should not be left telescoped together during storage.

Do not leave your tent set-up for weeks at a time, be aware that exposure to the ultraviolet rays of the sun can seriously damage material and/or cause it to become discolored.

Specification

Bottom: octagon - 3 meters diameter (10')

Top: Round 2 meters diameter (6.5')

Height: 1.5 meters (5')

Weight: 4.5 kgs (10lbs)

Components:

Main flexible supporting pole 4 pcs

Upper round flexible supporting pole 1 pc

Flexible poles for dome 2 pcs

Main tent 1 pc

Full Fly cover 1 pc

Nail in earth: 8 pcs

Inner packing bag: 2 pcs

Carrying bag: 1 pc


888.291.6577



SmartAstronomy will be away from June 21st through Jun 28. All purchases will be shipped on the June 29th.


By faith we understand that the universe was created by God's command, so that what is seen has been made from things that are not visible




Copyright (R) 2004 SmartAstronomy, All rights reserved.